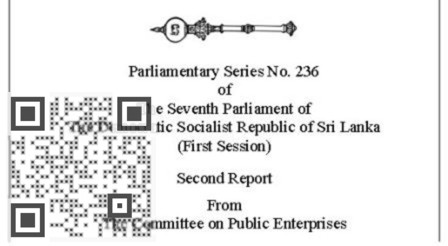 Speech of Prof Rajiva Wijesinha
At the debate on the Second Report
Of the Committee on Public Enterprises
October 10th 2013
Hon Chair
The publication of this Second Report of the Committee on Public Enterprises is a momentous occasion, because it exemplifies how Parliamentary Standing Committees should conduct themselves in a manner that has not been apparent in Parliament for 30 years. All credit should go to the Chairman of COPE, and the three chairs of COPE Sub-Committees, a Minister, a Junior Minister and the most responsible and respected member of the main Opposition Party, for ensuring that we covered almost all institutions coming under the purview of COPE.
When, Hon Chair, as a new Member of Parliament, I expressed astonishment at the fact that previously COPE had only looked at a modicum of the institutions it had to consider, and suggested that we work through sub-committees, one of the more experienced Opposition members of COPE objected vehemently. But the Chairman upheld the suggestion, and I am happy to say that that Member acknowledged the benefit of that very simple idea.
Another area where I was able to innovate was in insisting that a deadline be given to institutions asked to provide reports. Previously, those institutions that were asked to respond but failed to do so were forgotten until the next time they were summoned, which was often years later. Fortunately we now follow up, though not as assiduously as I would wish.
This is a pity, but we must appreciate that the COPE office is badly staffed and, having got used to the lack of energy of the Committee in earlier incarnations, is hard pressed to satisfy our needs. However I must pay tribute to the staff who have managed as best possible under difficult circumstances, and produced this thorough report.
The manner in which COPE works is a tribute to the skill of the Chair in ensuring a spirit of collegiality. Government and Opposition members work well together, and are also much more polite to administrative officials, who have in turn expressed appreciation of the manner in which we question them, and try to advise rather than blame. 
Being I suspect one of the few members of Parliament who had to witness the COPE from the other side as it were, when I was Secretary to the Ministry of Disaster Management and Human Rights, I should note that the conduct of my colleagues now represents a sea change from the uninformed and aggressive criticism that officials sometimes had to face in the past.
But, Hon Chair, though things are certainly much better than they used to be, and we have produced what I hope is a very helpful report, there is still more that must be done. That is why I have proposed amendments to Standing Orders, to develop the functions of both Consultative and Oversight Committees, and I am glad that it has been decided to refer these to the Committee on Standing Orders, which might otherwise have continued to fail to meet, at task it has successfully fulfilled over the last three years. I don't suppose there is any other Parliament in the world where such a thing could happen, so I hope that the example set by COPE will be taken to heart by that Committee.
Amongst the changes I have proposed are that, instead of a Chairman elected by the Committee, the Committee on Public Accounts and the Committee on Public Enterprises should both have 'a Chairman and Deputy Chairman of the Committee appointed by the Speaker in consultation with the Minister in charge of the subject of Finance. Neither Chairman nor Deputy Chairman may be a Minister or Project Minister or Deputy Minister, and the Chairman shall be a Member of the Opposition and the Deputy Chairman a Member on the government side'.
This would bring us in line with practice in other parliamentary democracies, where setting the agenda for oversight is the business of opposition. Indeed, Hon Chair, your own Chairmanship of the Committee on Public Petitions was in line with such practice, since it makes no sense for representatives of the Executive to be charged with responsibility for the oversight functions of Parliament with regard to executive action. This used indeed to be the practice in Sri Lanka, until the system was changed in the top heavy Parliament of 1977, and the practice began of having Cabinet Ministers chairing such oversight committees. Though there have been exceptions since then, the problem is that traditions are developed in Sri Lanka at the drop of a hat, and the concept behind various Parliamentary practices is not understood. It is therefore necessary to entrench through regulation the systems which are normal elsewhere.
 At the same time I have tried to accommodate government concerns about the possible partisan nature of Chairmen who might be appointed by leaving the final decision in the hands of the Speaker, following consultation of the relevant Government Minister. My view is that, while some members of the Opposition might use the position for party political purposes, there are others who are concerned primarily about public service and accountability, and this should be recognized. I have also added a Deputy Chairman position, not only to ensure adequate government input into the manner in which the Committees are conducted, but also to develop a bipartisan approach.
I have also suggested mandatory follow up with regard to the reports of these Committees, which must be prepared annually. I believe Hon Chair that you will certainly concur yourself with this suggestion, given the excellence of the Report you produced as Chair of the Public Petitions Committee, which was not however implemented as it should have been because of the lack of statutory provisions regarding this.
I have proposed therefore that, instead of the reports being simply approved by Parliament, whereupon the recommendations 'shall be deemed to be recommendations to the Government which shall accordingly consider the same and report back to Parliament within a period of six months', the report 'shall be laid before Parliament and sent to the Minister in charge of the subject of Finance who shall within one month respond to the Report and indicate which recommendations may be accepted with a time frame for implementation. Explanations will be provided with regard to recommendations which cannot be implemented with a description of what remedial action will be taken instead to deal with issues raised.
Following such a response, the Report shall be discussed by Parliament, and after amendments if appropriate shall be approved, whereupon the recommendations in such report shall be deemed to be recommendations to the Government which shall be responsible for implementing the same and reporting back to Parliament within a period of six months. The Speaker will ensure that such reports are furnished on time, and will raise any delays with the Head of the Executive.'
The purpose of this is to ensure that there are productive responses to the Reports. At the same time I recognize that Parliament, while pursuing financial probity and accountability, may not be in a position to understand the practical considerations involved, and that is why I believe it is important to give the Executive an opportunity to respond, and explain what can be done, and what cannot be done.
However the incapacity to act in the way recommended cannot suffice, which is why I have requested that the Executive indicate what remedial action is proposed instead for any inadequacies or abuses to which attention has been drawn. This will also facilitate the next stage, which is reporting back to Parliament within six months as to the actions taken. At present there is no method of ensuring the required feedback, and sadly it almost never occurs.
In addition to these structural reforms, there are a few simple measures that the Executive should implement to save a lot of time and money. Yesterday we suggested that the Treasury should sit together with affected agencies and revise its circulars so that we do not have endless examples of institutions being reprimanded for what is in theory wrong but which no one really takes seriously. Similarly, government should remove all ambiguities in circulars and, if instructions are to be read in combination with another circular, this should be made clear. The Treasury should also issue clear instructions to its representatives who sit on various Boards, since it is embarrassing to find institutions accused of violating government regulations with Treasury representatives having acquiesced.
I mention these because often problems arise because clear systems are not in place. But when we spend time looking at systemic problems, we can lose sight of stringent financial oversight, which should be our main business.
At the same time we need to look at productivity, which is why the decision of the Chairman, that we should concentrate in the coming year on performance too is so important. We need to ensure not only that there is no fraud, we also need to limit waste. The recommendations we have made that many institutions should be closed is something government needs to take more seriously, while also ensuring that Ministries responsible for such institutions take remedial action without waiting for COPE to say what should be self-evident.
Ultimately we need to promote constitutional reforms in general that will ensure an efficient and effective executive, whilst ensuring that Parliament is strengthened to fulfil its legislative and oversight functions. The manner in which COPE has functioned this year, with input from both government and opposition, under an exemplary chairman, sets a standard at which we should aim in general.